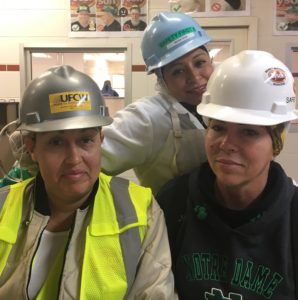 On Nov. 2, the UFCW helped to draw attention to pay disparities for Latinas on Latina Equal Pay Day.
Although Latinas make substantial contributions to the U.S. economy, they have the largest wage gap, typically earning only 54 cents for every dollar earned by White, non-Hispanic men. Latinas must work more than 22 months to earn what White men earn in 12 months. This disparity in pay hurts not only Latinas, but also has a significant impact on the families and communities they support.
To help raise awareness about this wage gap, the UFCW joined the Twitter storm on Nov. 2. Our tweets reached over 50,000 people, and were retweeted hundreds of times. UFCW International Secretary-Treasurer Esther López also wrote about how we can work together to make a better life for Latinas working in the U.S. in an op-ed in Bustle, which was published on Latina Equal Pay Day.
"There exists a sure-fire way for Latina women to earn the better wages they deserve: joining a union in their industry. Latina women who have joined a union earn more than their non-union counterparts — $242 more per week, in fact, according to the Bureau of Labor Statistics," López wrote.
You can read the entire op-ed here.