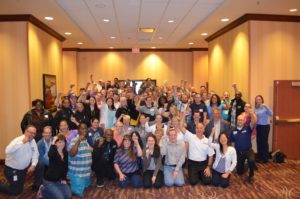 UFCW Local 653 recently launched a successful Hustle pilot program with a few of its stewards to explore another way to increase member-to-member communication. Hustle is the one-on-one text messaging platform available to locals through the UFCW International.
UFCW Local 653 wrote a simple script to ask people to attend one of five regional meetings throughout the first week of October. It was preloaded into the app, along with a list of members. As a pilot program, each steward had a list of 100 members, and additional contacts ready if they had the ability to text more.
The script went as follows:
"Hi Coworker, this is Name, steward with our Union Local 653. We're negotiating our contract ✊? next year & having big meetings next week for us to work on winning together. www.meetingflier.link Will you join me Oct. 2nd 3rd or 4th?"
As each message was sent, Coworker and Name were automatically replaced by the names of all the members receiving the message and the name of the steward sending the messages. Even better, each member was able to respond individually and the steward was able to engage in a personalized, one-on-one text conversation.
Also included in the message was a Fist Emoji (Union Power!) to catch people's attention and a link to an online flier so people could click for more information.
In total, five UFCW Local 653 stewards sent messages to 925 coworkers in only a few hours. Over 150 members responded to the messages, which is a very high response rate. The Hustle effort complemented the one-on-one conversations stewards were having with members to encourage high turnout to the regional meetings.
Paul Swanson, one of the UFCW Local 653 stewards who participated, said, "The preloaded messages with basic answers were pretty easy to use. I reached 100 members in less than 15 minutes. Fifteen to 20 members responded to me with additional questions that I was pleased to answer."
Alex Kunau, another UFCW Local 653 steward, noted, "Hustle was very easy. It was simple, straightforward and I could zip through the contacts fast. It took me less than an hour to get through 200 contacts."
"Ninety-nine percent of the people were happy to be contacted by a fellow union member," he added.
UFCW Local 653 has plans to train all stewards in their local to use the Hustle app in 2018.