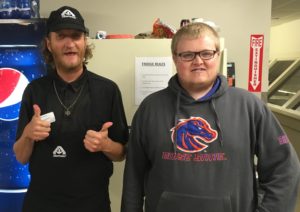 On Sept. 21, deli workers at Albertsons store #169 in Boise, Idaho, voted to join UFCW Local 368A by an overwhelming margin. The grocery and meat departments in the Albertsons store were already organized by UFCW Local 368A, and union members who work in the store and in neighboring stores in the Treasure Valley played a crucial role by standing in solidarity with the deli workers.
"We are really happy we can now sit down and negotiate with Albertsons over several issues we really care about," said Andrew Cade, who has worked at the store's deli since September of 2016. "For some time now, we have seen our coworkers in the same store enjoy the benefits of a union contract, such as affordable healthcare, and now we have a real opportunity to bargain for some of those same things."
Joshua Barton, a frozen supervisor who served as the union's observer during the election, noted union members' encouragement was crucial in helping his coworkers stand for what they deserve.
"We have been talking to them during breaks and after shifts about the fact that they, too, have a right to organize and bargain for what they need, just the way we already do," Barton said.