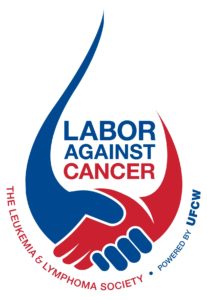 The UFCW, in partnership with the Leukemia & Lymphoma Society (LLS), has launched a new "Labor Against Cancer" initiative in the battle to end blood cancers.
This new initiative builds on our 30-year partnership with LLS to fund and support some of the world's best and brightest blood cancer researchers to cure leukemia, lymphoma, Hodgkin's disease and myeloma, and improve the quality of life for patients and their families. Our decades-long partnership with LLS has raised $83 million so far to help fund research that has advanced treatments such as chemotherapy, stem cell transplantation, and smart drugs, which have become the standard for many other cancers.
There are many opportunities to participate in Labor Against Cancer, starting with our first annual member drive. It is simple to donate, and we have worked with LLS to provide some exciting incentives to help promote LLS awareness and member participation, including the opportunity to win Fitbits and Apple Watches.
Everyone knows someone who has dealt with this disease or heard the words "you have cancer," themselves. Together, we can show our brothers and sisters who are struggling with blood cancers that they are not alone and can have hope for the future. Visit the Labor Against Cancer website here to donate to this worthy cause.