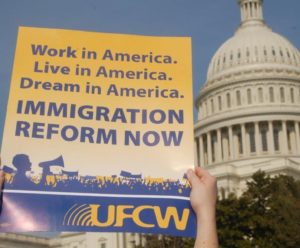 On Sept. 5, UFCW International President Marc Perrone issued a statement regarding the Trump Administration's termination of Deferred Action for Childhood Arrivals (DACA), a program protecting hundreds of thousands of young immigrants who were brought into the country illegally as children.
The statement reads as follows:
"President Trump's decision to end DACA is cold-hearted, cruel, and a betrayal of what America stands for.
"Hundreds of thousands of young, hard-working men and women who love America will now be needlessly punished for childhood circumstances. These young people have grown up in this country, passed background checks, pay taxes, go to school, and have worked hard to build a better America. They have earned and deserve fair treatment, but instead their lives are being thrown into chaos with this announcement.
"President Trump's decision will not make America great again; rather, it will tear families apart, damage communities, and further fuel a terrible divide that is already hurting the nation we all love.
"On behalf of the 1.3 million members of our union family, we urge all Members of Congress to immediately do what is right and protect these Dreamers."
On Sept. 6, the UFCW distributed a memo to UFCW Locals regarding the status of DACA.
The memo reads as follows:
TO: ALL UNITED FOOD AND COMMERCIAL WORKERS LOCAL UNIONS
As many of you know, on September 5, 2017, the U.S. Department of Homeland Security (DHS) announced a phased ending to Deferred Action for Childhood Arrivals (DACA) program.
The following outlines important details and information for our locals to discuss with affected members.
What will end immediately?
No new DACA applications will be accepted as of September 5, 2017.
No new applications for employment authorization will be accepted after September 5, 2017.
There will be no approval of advance parole, which allows temporary leave from the U.S. and lawful reentry into U.S., for DACA recipients as of September 5, 2017.
What about DACA will continue to be processed?
Initial DACA applications and employment authorization requests that are already filed as of September 5, 2017 will be processed.
Applications for renewal of DACA and work authorization for current beneficiaries whose status expire between September 5, 2017 and March 5, 2018 will be processed if they are received by DHS within the next 30 days by October 5, 2017. If granted, the recipient will remain in status for the validity period which typically has been two years.
Applications for DACA renewal and work authorization filed after October 5, 2017 shall be rejected.
What is the status of current DACA recipients?
Current DACA recipients and Employment Authorization Document holders will continue in the DACA status with work authorization for the duration of the two-year validity periods.
DACA recipients with currently approved advance parole will be allowed to temporarily leave for the validity period granted. However, Customs and Border Protection (CBP) still retains discretion to deny reentry at the border.
What is the current status of enforcement when DACA expires?
DACA information provided to U.S. Citizenship and Immigration Services (USCIS) to process DACA applications will not be proactively shared with Immigration and Customs Enforcement (ICE) or CBP.
For more information, contact the UFCW Legal Department at (202) 466-1593 or rbowser@ufcw.org.