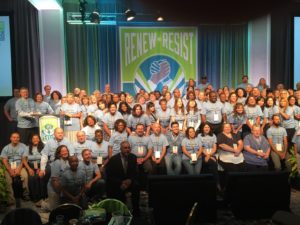 On August 25 to 27, UFCW International President Marc Perrone and 123 delegates from UFCW Locals 7, 21, 27, 135, 324, 400, 555, 770, 1428 and 1996 attended the Coalition of Kaiser Permanente Unions Delegate Conference in Portland, Ore. The purpose of the conference was to build solidarity and strength among the coalition with the end goal of negotiating strong contracts with Kaiser Permanente.
The Coalition of Kaiser Permanente Unions, AFL-CIO, is a federation of 29 locals from the UFCW and 10 other international unions that represent 120,000 union members. The UFCW represents 11,600 Kaiser Permanente employees, most of whom are professional or technical workers. UFCW Locals 1167 and 1442 also represent Kaiser Permanente workers, but were not able to attend the conference.
President Perrone spoke at the conference, and emphasized the importance of working together to secure strong contracts and improve health care for our members at Kaiser Permanente and those they care for.
"If there is ever a doubt about how important this coalition is or of the value our members offer every single day, let us never forget this: You are the ones that give hope, where too often there is none. You provide comfort and care at our most vulnerable times," Perrone said.
"It is not politicians or policymakers who make a difference in the lives of others who are suffering from the pains and ills that imperil so many millions. It is us. It is this coalition. It is this diverse union family. We are the ones who have accepted the responsibility to stand together. To work together. To believe in each other, and to unite together to better the lives of those whom we care for, and all our Kaiser members – across every one of our unions. The responsibility of caring for others and for our members is not a responsibility that is borne by one union, any union leader, or even Kaiser itself. It is a responsibility that must be shared and respected."