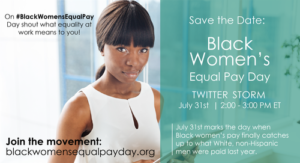 Help us draw attention to wage disparities for African American women on Black Women's Equal Pay Day, which will take place on Monday, July 31—the day when African American women's pay finally catches up to what Caucasian, non-Hispanic men were paid last year.
While African American women make substantial contributions to the U.S. economy, they face considerable disparities in the labor market. According to 2015 American Community Survey data, African American women, on average, are paid 63 cents for every $1 paid to Caucasian, non-Hispanic men, and are overrepresented in jobs with little job security, few benefits, and limited opportunity for advancement. These poorer quality jobs, combined with restricted access to unions in the states in which African American workers are concentrated, hinder access to economic security and overall well-being.
Please get involved and help us draw attention to this economic disparity by joining the Twitter storm (#BlackWomensEqualPay) on Monday, July 31 at 2-3 p.m. Eastern Time. For more information, visit http://www.equalpaytoday.org/black-womens-equal-pay-day.