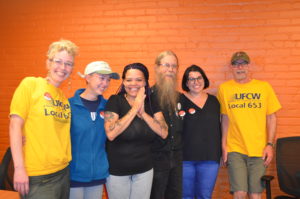 On June 22, workers at three Seward Co-op stores in south Minneapolis voted to join UFCW Local 653 by an overwhelming margin. Earlier in June, the workers at the three stores, including the Creamery Café, the Seward Franklin store on Franklin Ave., and the Seward Friendship store at 38th St. and Clinton Ave., held a rally for a voice in the workplace after submitting cards authorizing representation by UFCW Local 653 to the National Labor Relations Board. This victory comes on the heels of employees at Eastside Food Co-op and Linden Hills Co-op also voting to join UFCW Local 653.
"We are happy to be moving forward together, workers and management, because we're committed to making the co-op a better place for both customers and the dedicated people who work at Seward," said Amber Young, who works at the Seward Franklin store.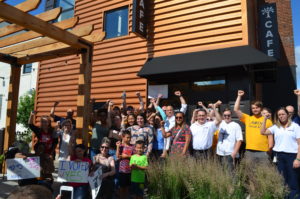 "Workers have come together to say yes to UFCW 653, yes to fair wages, yes to negotiating better benefits, and yes to respect and dignity in the workplace," said Max Storey, who works at the Seward Friendship store.
"I appreciate the diverse perspectives and experiences that everyone brings to the work we do in the co-op. Most importantly, I'm looking forward to protecting and supporting all of my co-workers through a collective bargaining agreement," said Bailey Lutz who works at The Creamery.
"We welcome everyone who works at Seward Co-op to the UFCW Local 653 union family. We're looking forward to helping them negotiate a better life for themselves and their families. Co-op values are union values, so we feel this new partnership will only make Seward Co-op and our local community stronger," said UFCW Local 653 President Matt Utecht.