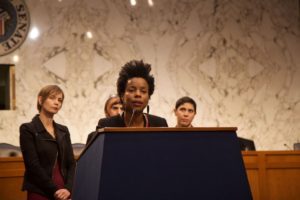 On June 20, UFCW International President Marc Perrone issued a statement regarding the reintroduction of the Schedules That Work Act, which is cosponsored by Senator Elizabeth Warren and Representative Rosa DeLauro. 
"When a person's work schedule varies widely from week to week, it brings chaos to both family life and family finances. The Schedules That Work Act is a common sense piece of legislation that will help hard-working men and women have more control over their lives. Smart, flexible, and reliable scheduling is the best way to ensure every family is able to build the better life they've earned and deserve."  
Kim Mitchell, a member of Local 400 who works at Macy's, spoke at the reintroduction of the bill and shared her firsthand experience with unpredictable work schedules.
"When I started 11 years ago, I worked 35 to 38 hours each week," Mitchell said. "Then it went from 35 to 32. And now I'm down to 28 hours. With that schedule, who in the world could be planning anything? It's unpredictable. I don't know what's going to come up in the next two or three weeks. And that's not fair."