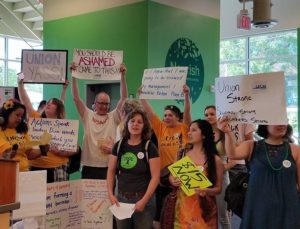 On June 7, workers at Seward Community Co-op in Minneapolis rallied for a voice in the workplace with UFCW Local 653. The workers and their supporters marched to three Seward Co-op stores in south Minneapolis, including the Creamery Café, the Seward Franklin store on Franklin Ave., and the Seward Friendship store at 38th St. and Clinton Ave., in their fight to win union recognition.
More than 75 percent of Seward workers have signed cards authorizing representation by UFCW Local 653. The cards were submitted on June 7 to the National Labor Relations Board.
"I love my family of coworkers," said Amber Young, who works at the Seward Franklin store. "I believe in Seward Co-op values. We want to make this a place where all of us live the co-op values – management, community and workers alike."
Outside the Creamery Café, the workers met with Seward general manager Sean Doyle, who declined to recognize the union and begin bargaining a contract. The workers then marched to the Franklin Ave. and Friendship stores, where they spoke with customers about their desire to join UFCW Local 653.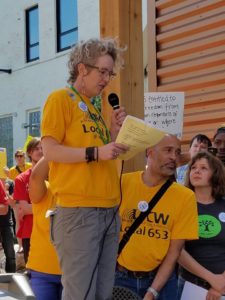 "During my eight years at Seward, I believe I've seen unequal treatment," said Amy Swenson, who works at both the Franklin and Friendship stores. "Enough is enough. All of us are hard-working people who are dedicated and committed to our community. We're standing up to make Seward better and our community stronger."
You can view the Seward Co-op workers rallying for union representation here.