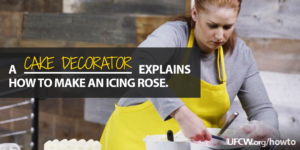 UFCW Local 23 member and cake decorator Carolyn Brooks is back with tips about how to make an icing rose in the UFCW's new "how to" video.
This video is part of a series of "how to" tips from UFCW members who are experts in their fields. In addition to Carolyn's cake decorating tips, the series features expert advice from a UFCW makeup artist, florist, butcher, produce clerk and prep cook.
You can watch Carolyn make an icing rose here. You can also subscribe to UFCW's "how to" videos here.