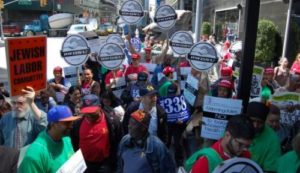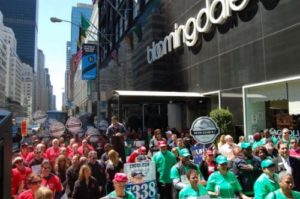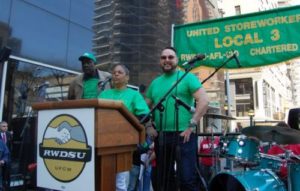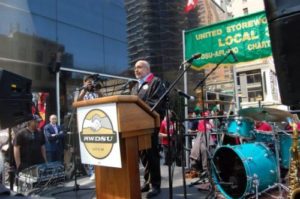 Last week, 2,000 RWDSU/UFCW Local 3 Bloomingdale's workers rallied in New York City for a new contract that includes fair wages, benefits and hours, along with fair commissions for in-store and online sales. The current contract is set to expire on May 1.
Commission sales are a key issue for Bloomingdale's workers, who are missing out on commissions because of returns and online sales. The workers want to keep commissions for items purchased in the store but later returned, and earn commissions for online sales that grow out of in-store interactions between employees and customers.  A growing number of shoppers purchase items on the Bloomingdales website after receiving stellar in-person customer service at the global flagship store. But currently, employees responsible for those online sales do not receive commissions.
Additionally, employees and their union representatives are calling for fair wage increases and protection of fair schedules, a continuation of their existing pension plan, affordable health care coverage, and their seniority rights.
"It's unionized workers at the Bloomingdale's flagship store who deliver the top-notch service and create the shopping experience so many customers have come to expect and love. These workers deserve a fair new contract that values their enormous contributions to the financial health and growth of Bloomingdale's," said Cassandra Berrocal, president of RWDSU/UFCW Local 3.
"Bloomingdale's should recognize that these incredible workers make the flagship store a highly profitable global showroom for customers from many countries. These dedicated employees generate millions in sales for Bloomingdale's, including from the company's website. They deserve a fair contract that offers commissions for online sales and returned items, along with good wages, benefits, and scheduling protections," said RWDSU/UFCW President Stuart Appelbaum.