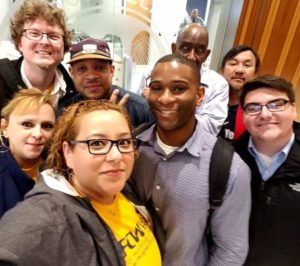 On April 6, L.T. Services Inc. custodians in Rockville, Md., joined UFCW Local 1994 MCGEO by a vote of 31 to 11. The workers, who are predominantly Latina, clean the Montgomery County Council office building and were concerned about the lack of health care and paid time off.
"We won!" said L.T. Services Inc. organizing leader Cristela Noemi Gomez. "We now have the chance to negotiate a contract for a better future. We welcome the union!"
"Congratulations to our newest MCGEO sisters and brothers. We are privileged to have you," said UFCW Local 1994 MCGEO President Gino Renne.