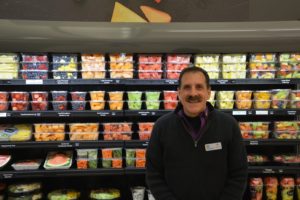 Al Garnett, a UFCW Local 328 shop steward who works as a produce manager at Stop & Shop in Harwich, Mass., was awarded the 2017 Retail Produce Manager Award from the United Fresh Produce Association on March 6. This prestigious award is granted each year to 25 of the industry's top retail produce managers from across the country and Canada.
This program, which is co-sponsored by Dole Food Co., recognizes top retail produce managers for their commitment to fresh produce, innovative merchandising, increased sales and consumption of fresh fruits and vegetables, community service, and customer satisfaction.
Garnett began his career over 25 years ago and has been a UFCW Local 328 shop steward for most of that time. In Harwich, Garnett is a recognizable face and enjoys building lasting relationships with both customers and coworkers. As a shop steward, he has taken a proud role in educating his coworkers about the importance of the union and making sure that the contract is enforced.
The award winners will be honored at the United Fresh 2017 Expo in Chicago in June. You can learn more about Garnett and what this award means to him here.