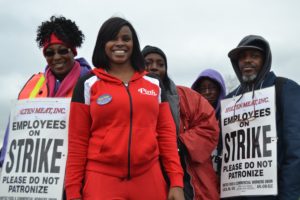 On March 27, maintenance workers at Holten Meat in Sauget, Ill., who are members of UFCW Local 655, joined more than 200 Holten Meat production workers on the picket line. Local officials and members of the faith community immediately rallied to support them, and asked Holten Meat to agree to a contract that will bring workers and their families the better life they've earned and deserve.
After four months of negotiations, Holten Meat production employees voted overwhelmingly to make the difficult decision to go on strike and have been walking together on a picket line around the clock since Saturday, March 18. The contract for maintenance employees expired at midnight on Monday, March 27, and they chose to join their hard-working coworkers on the picket line, feeling it was the best way to make their workplace and lives better.
Reverend Dr. Martin Rafanan also joined the picket line to urge Holten Meat to finally offer a contract that will give employees improved work-life balance and a real opportunity to help Holten build a stronger company that will benefit the entire community.
"Holten Meat is successful because of our members, and they are needlessly making it harder for people in our community to find the time to take care of their families and impossible for workers to grow and advance their careers," said UFCW Local 655 President David Cook. "All of these hard-working men and women are simply standing up together with the hope of improving their lives."
"We work hard, and we've made this company successful," said Holten production employee Trinetta Kitchen. "All I want to do is have time with my children. When the company takes away our weekends without any extra pay, it makes it harder for me to raise my children and be there for my family. We work these jobs to support our families, and we deserve to see and spend time with them, too."