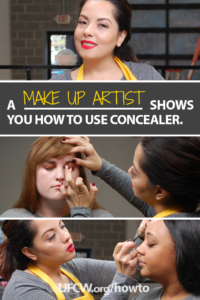 To celebrate the expertise of our members, the UFCW has launched its second "how to" video featuring Jasmin Amely, a makeup artist who works at Macy's in New York City. Jasmin is a member of RWDSU/UFCW Local 1-S.
This video is part of a series of "how to" tips from UFCW members who are experts in their fields. In addition to Jasmin's makeup tips, the series features expert advice from a UFCW butcher, florist, produce clerk, prep cook, and cake decorator.
You can watch Jasmin show you how to conceal uneven skin without too much foundation here. You can also subscribe to UFCW's "how to" videos here.