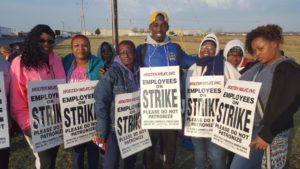 On March 18, members of UFCW Local 655 who work at Holten Meat in Sauget, Ill., rejected a contract offer that asked them to work harder for less, and made the difficult decision to authorize a strike.
No matter where our members live or the local they are part of, our union family is stronger when we stand together. Our members who work at Holten Meat have made it clear that a work-life balance is not only important, it's worth fighting for.
"The issue for our members is about quality of life. It's about having more control over their lives," said UFCW Local 655 President Dave Cook.
UFCW Local 655 has been negotiating with Holten Meat over this contract for more than four months. While many workers are satisfied with the wages and benefits the company offers, they've become frustrated with schedules that make them choose between working and spending time with their families.
Why is this an issue worth standing up for? Today, a veteran employee who works on the night shift at Holten Meat is unable to use his or her seniority to transfer into an open day shift position. Instead, Holten Meat will frequently hire new employees to fill the open day shifts, making our most committed and dedicated members work schedules that sacrifice time from family.
Members are also being asked to split their days off, meaning they have to spend part of the weekend at work and away from their families for no extra pay.
As we all know, our hard-working members can relate to what's happening at Holten Meat. The dedicated members who work simply want the better life they've earned, and supporting a family shouldn't mean that you never get to see them.
"Give these hard-working men and women the contract they have earned and deserve," Cook said. "It's that simple."