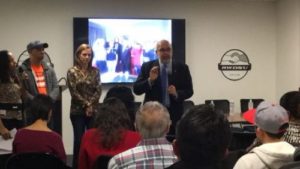 Over 100 RWDSU/UFCW members employed at New York City car washes attended a meeting on March 8 which focused on immigrant rights and how immigrant workers can protect themselves during the increasingly hostile Trump era. Consulate officials from Mexico, Honduras, Guatemala, and Ecuador, as well as representatives from the Mayor's Office of Immigrant Affairs, and community groups Make the Road New York and New York Communities for Change, discussed how immigrants should act if approached by immigration officials and how they can get legal help, if needed.
The RWDSU/UFCW's Car Wash Campaign has worked for more five years to clean up the car wash industry and improve conditions for the workers, who are known as "carwasheros." Workers at 10 shops have voted to join the RWDSU/UFCW and have won contracts.
For workers, it is proving to be an uncertain time.
"We come to this country in search of a better future for our families. We are good people, we do nothing but work honestly. President Trump should give us a chance and not be so hard on us," said Simon Salvador, who has been working as a carwashero in Brooklyn for the past 15 years.
RWDSU President Stuart Appelbaum affirmed the union's commitment to fighting for carwasheros and all immigrant workers.
"The U.S. labor movement has a moral obligation to defend working women and men and their families, regardless of their immigration status," Appelbaum said.