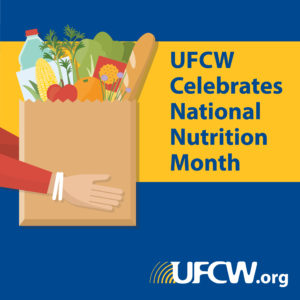 Was your New Year's Resolution to eat healthier? If so, you're in luck. To celebrate National Nutrition Month, throughout March our UFCW family and its many food workers will be bringing you tips for a better life through healthy eating.
Spring is just around and the corner, making March the perfect time of year to refocus on eating right, getting healthy, and chasing away those winter blues. We know how hard it can be to balance work with all the demands of your life and still stay focused on your nutrition, but eating healthier foods doesn't have to be a chore. Throughout the month, we'll be sharing tips with you to make it easier to stay excited and engaged, and help get you on track to a better you and a better life.
Head to ufcw.org for a quick plan for better eating, and put your best fork forward for #NationalNutritionMonth!