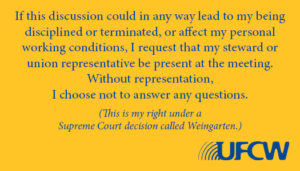 Weingarten cards are now available at the UFCW Print Store. The cards have been printed in English on one side and are available 25 additional languages.
The languages include:
Albanian
Amharic
Arabic
Bosnian
Burmese
Cantonese
French
Haitian
Hakha Chin
Hindi
Hmong
Karen
Khmer
Kiswahili
Korean
Lao
Nepali
Russian
Serbian
Simplified Chinese
Somali
Spanish
Tagalog
Thai
Vietnamese
You can visit the UFCW Print Store to purchase Weingarten cards here. Minimum orders are in batches of 100 in the same language. If you have any questions about accessing the UFCW Print Store, contact Zena Cole and Andre Johnson (zcole@ufcw.org and ajohnson@ufcw.org).