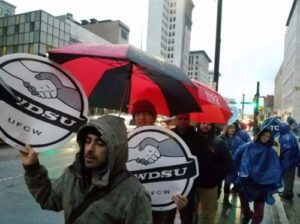 On Jan. 20, RWDSU/UFCW Local 108 members who work as drivers for the Gateway shuttle bus in Newark, N.J., rallied for fair first contract. The workers joined RWDSU/UFCW Local 108 last year to improve their pay and treatment, but their employer still hasn't negotiated with them. The rally took place in front of the Prudential building in Newark, where the Gateway shuttle brings Prudential building workers.
"We are here in support of the shuttle bus drivers that transport Prudential employees safely throughout the downtown area of Newark," RWDSU/UFCW Local 108 President Charles N. Hall Jr. said.
"The Gateway Company has grown and become very profitable over the years. I guess the secret to their success is to give their employees as little as possible. I say to Prudential, Cushman & Wakefield and Gateway do the right thing by these workers. They are providing a valuable service to your company," Hall added.
You can watch a video of the rally here.