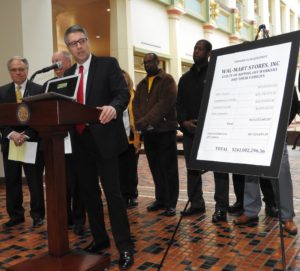 On Jan. 24, Making Change at Walmart (MCAW) held a press conference in Harrisburg, Pa., to draw attention to the more than 187,000 current and former Walmart workers throughout Pennsylvania who won a $241.1 million class action lawsuit against the retail giant. MCAW also released an ad in the Pennsylvania market about the case.
The case originated in 2002, when former Philadelphia Walmart worker Michelle Braun filed a class action lawsuit against all Pennsylvania Walmart and Sam's Club stores, alleging that the company failed to compensate workers for off the clock or additional work hours, and prevented workers from taking or completing their rest or meal breaks. In 2004, Dolores Hummel, who was employed as a cake decorator at Walmart in Reading, Pa., filed a class action lawsuit presenting allegations similar to Braun's 2002 complaint.
In 2005, the two lawsuits were combined and class certification was granted by the Court of Common Pleas of Philadelphia County. The class consisted of all current and former employees of Walmart and Sam's Club stores in Pennsylvania from 1998 to 2006, totaling approximately 187,000 people.  Although a jury returned a decision in favor of the plaintiffs in 2006, Walmart appealed the case for years. The current and former Walmart workers began receiving payments last December, and the award includes $88 million in interest.
"Walmart's attempt to cheat, deny and delay millions of dollars of income earned by workers that were forced to work off the clock has finally been defeated," said MCAW Campaign Director Randy Parraz.  "This historic judgment provides hope and inspiration to thousands of workers who continue to be mistreated, unappreciated and undervalued at Walmarts all across America.  Although justice was initially delayed, it has finally arrived for workers like Michelle, Dolores and some 187,000 current and former Walmart workers."
You can view MCAW's ad about the case here.