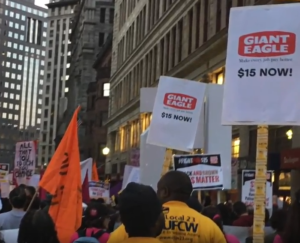 Members of UFCW Local 23 who work at Giant Eagle joined the Fight for $15 National Day of Action in Pittsburgh on Nov. 29. The Giant Eagle workers are calling on the company to give all workers at all Giant Eagle stores merit raises so that their wages can be brought up to a $15 per hour minimum, chain-wide. The workers are also asking Giant Eagle to give those employees who already make more than $15 per hour an additional $1.50 pay raise.
Three UFCW Local 23 members who work at Giant Eagle were arrested for civil disobedience during the rally.
"When I started working at Giant Eagle in 1970, I made the equivalent of $15.80 per hour," said Sonny Linden, one of the Giant Eagle workers who was arrested. "Workers made living wages and we could support our families. Employees hired today can't possibly raise a family on the starting rate of $8.25. Successful employers all over the country—including some here in Pittsburgh—are already committed to $15 per hour. Giant Eagle can do better."
You can watch UFCW Local 23 members at the Fight for $15 National Day of Action here.