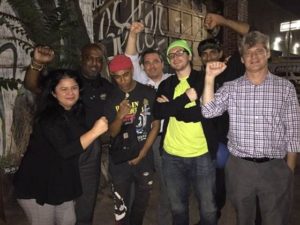 On Oct. 20, 56 workers at the Hale & Hearty commissary in Brooklyn, N.Y., banded together for a better life by joining UFCW Local 1500. Hale & Hearty is New York-based counter-serve chain that well known for its soups.
Donald Torres, who has worked at the Hale & Hearty factory for two years said, "We all just felt that we deserved better. We want to have a voice and to build a better life working here."
Tony Speelman, president UFCW Local 1500, said "I want to congratulate the hard-working men and women at Hale & Hearty for joining us at Local 1500. Our entire union is proud of them and admires their courage. We look forward to building a relationship with Hale & Hearty, and working together to find ways to benefit workers and the company together."
"By working together we will improve their lives and make Hale & Hearty into a better and more successful company. This cannot be done alone, it will be a joint labor-management effort and we look forward to beginning that relationship," Speelman concluded.