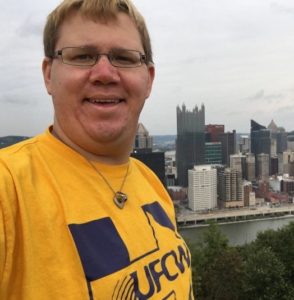 Will Reynolds Young, a member of UFCW Local 23 who works at Giant Eagle, is making a difference in his community this election season by registering voters, phone banking and knocking on doors in the neighborhoods of Pittsburgh.
Young has worked at the Giant Eagle grocery store in Pittsburgh for ten years and has dealt with health issues for the past two years.
"I can't even put a price tag on how valuable the health insurance is that I've been afforded as a union member," he said.
Young is supporting Hillary Clinton, and is also making sure people know about the Senate race between Sen. Pat Toomey (R-Pa.), and Katie McGinty, the pro-worker challenger.
"There's more reasons to vote than just the presidential race," Young explained. "Sometimes state and local races can have an even greater impact. Political work can be trying at times, but it's all worth it if more pro-worker candidates can win on Election Day."
Young was recently featured on Medium and you can read more about him here.