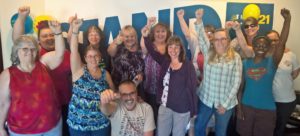 Last month, thanks to the hard work and sacrifice of dedicated UFCW Local 367 members who work at Fred Meyer stores in Washington state, the superstore chain changed its cash handling policy in Washington and Oregon. This policy change impacts thousands of members outside of Local 367, and ends a decade-long battle about whether or not it is just to terminate an employee the first time they make a mistake at the checkout stand. Local 367 represents approximately 2,300 of workers at Fred Meyer in Washington.
"Standing together with members from Local 21, 1439 and 555 gave us the strength to change the policy," said UFCW Local 367 President Denise Jagielo.
Now there is a clear and progressive discipline policy for routine errors under $200. Members who work at Fred Meyer will receive a written warning for their first routine error. Members who make a second error will receive a three-day suspension.  Those who make a third error will be terminated.  If a member goes two years between errors, they will repeat the previous step.
"We were seeing long-term, hard-working women and men being fired for routine mistakes," said Tena Sawyer, one of the nearly 20 Local 367 members whose careers were saved thanks to the changes. "Standing stronger together against this unjust policy was the only way we could change it."