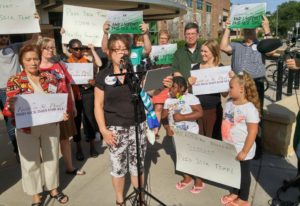 On September 7, the St. Paul City Council passed the Earned Sick and Safe Time Ordinance by a vote of 7-0, joining Minneapolis and dozens of other cities nationwide that mandate earned sick leave. Members of UFCW Local 1189 played a big role in the passage of this legislation.
"The ability to earn and use sick time in the city of St. Paul is a huge step toward creating healthier workplaces and healthier lives," said UFCW Local 1189 President Jennifer Christensen. "I am proud of the tireless work done by our state's unions. Bennie Hesse, Local 1189 legislative and political director, was a leader in the crusade, working with Union Steward (and Executive Board Member) Dennis Reeves to provide important testimony to the city council on the need for paid sick and safe time for grocery workers."
Members of UFCW Local 1189 served on a task force put together by the city council and mayor for a year and worked with a coalition of advocates and other labor groups to raise awareness about this issue. The Earned Sick and Safe Time Ordinance takes effect on July 1, 2017 for businesses in St. Paul with at least 24 employees. Smaller businesses will have to comply by Jan. 1, 2018.