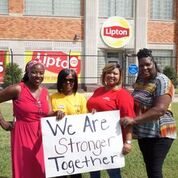 Last week, workers at the Lipton plant in Suffolk, Va., voted to join UFCW Local 400. The Lipton plant has more than 200 workers and has operated in Suffolk for more than 60 years, where it produces nearly all of the Lipton tea sold in North America.
On August 29, the workers held a press conference outside the plant to announce the victory.
I woke up this morning feeling wonderful," said Lisa Gayle, who's been with the company for 14 years. "As a unified group, now we can make Lipton the best place it can be. I'm so excited!"
"For the last ten years, we've seen our benefits decline. By standing together as one, as a union, we hope we can stop the bleeding now before it's too late," explained Alvin Brown, an operations technician who celebrated his 21st year with the company on Monday.
"I'm so proud of all of us for coming together and standing as one," said Rodney Hart, who has worked at the company for 24 years. "We come a long way in a few weeks, and now we have to stand as one and support each other in order for our union and our company to be the best at what we do."
"I couldn't be happier to welcome such a wonderful group of people into the UFCW family," said Mark Federici, president of UFCW Local 400. "Their courage, commitment and tireless efforts bolstered my faith in the power of working people to stand up for themselves and improve the lives of all hard-working men and women."
Earlier this year, several workers at the Lipton plant reached out to UFCW Local 400 to explore the possibility of forming a union at the plant. At the time, many workers were required to work up to 12 hour shifts for as many as 13 days in a row with only one day off before doing it again. The widespread practice of forcing employees to work overtime was known as "drafting" and went on for years. The workers claimed they needed the guarantees and protections of a union contract to ensure fair treatment and accountability from plant management, including putting an end to involuntary overtime drafting.
Following last week's vote, the workers will now collectively negotiate their first union contract with Unilever, the parent company of Lipton.
"We must commend Lipton and Unilever for upholding their commitment and honoring their employees' right to organize," said Tiffany Flowers, director of organizing at UFCW Local 400. "Too many companies intimidate, threaten, or even outright fire workers who dare to exercise their right to have a voice on the job. We're happy to say that wasn't the case here."