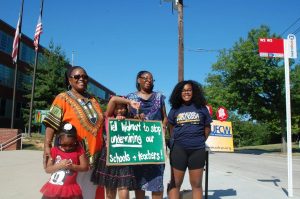 On August 12, Making Change at Walmart (MCAW) and the Washington Teachers' Union (WTU) held a press conference outside of Moten Elementary School to call attention to the Walton family—heirs to the Walmart empire—and their funding of charter schools at the expense of public schools and teachers in Washington, D.C. The Walton Family Foundation is one of the country's biggest funders of school privatization efforts and the foundation has helped to fund a quarter of the country's charter schools.
"Walmart has tried to position itself as a friend and supporter of public schools and teachers when in reality the opposite is true," WTU President Elizabeth Davis said. "Walmart and the Walton family have consistently sought to privatize our schools and destroy public education."
"Every year, school budgets continue to be cut and teachers are forced to spend hundreds—if not thousands—of dollars of their own money on supplies for their classrooms and their students," Davis continued. "We're asking our members not to spend their hard-earned money at Walmart. It's important that public school teachers know that the dollars they spend at Walmart are being used to harm the very schools they work in."
The press conference was covered by the Washington Post and local station Fox 5.