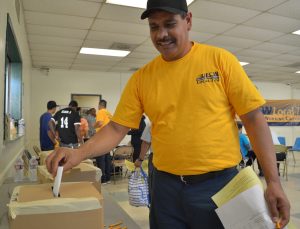 On August 17, after months of negotiations, hundreds of Farmer John packinghouse workers in Vernon, Calif., ratified a new contract. The workers, who are members of UFCW Local 770, produce bacon, sausage, ham, and hot dogs, including the famous "Dodger Dog."
Farmer John is the trade name for pork products produced by Vernon, Calif., based Clougherty Packing Company. Clougherty is a wholly owned subsidiary of Hormel Foods Corp.
The two-year contract, which was negotiated with Hormel Foods Corp., includes a union security clause after 31 years of fighting to get it back. The contract also includes wage increases for all classifications, protection for the employees' right to use restroom facilities, protection and compensation for employees who must miss work due to illness beyond the new state requirements, provisions that strengthen the workers' voice on the job, and improved safety enforcement.
"This contract represents a significant victory for our members, and secures their wages and health benefits," said Rick Icaza, president of UFCW Local 770. "It provides additional respect and dignity for the workers, and shows that our members' solidarity and unity was successful in beating back the corporation's desire to cut their workers' compensation and benefits."
"Thanks to the unwavering determination of our members, and the support of community allies, we were able to stand strong and deliver for our members," said John Grant, secretary-treasurer of UFCW Local 770.