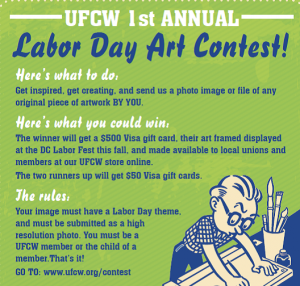 This year, the UFCW International is hosting its first-ever Labor Day art contest.
UFCW members and their dependents are eligible to enter an original work of art in the contest, and could win a $500 Visa gift card and have their artwork framed and displayed at the DC LaborFest in the fall. The winning piece will also be available for all UFCW locals and members at our online UFCW Store. Two runners-up will receive $50 Visa gift cards, as well.
It's simple. Members just need to upload a high resolution photo image of their original art at www.ufcw.org/contest. The submission must have a Labor Day theme, and the artwork needs to be by either a member or their dependent.
The deadline to submit is August 25th, and winners will be notified by August 29th.
We will be kicking off the contest by sending you all a social media toolkit and a break room flyer to help to help get out the word to your members. In addition, we will be promoting the contest on our own social media sites and email, as well.