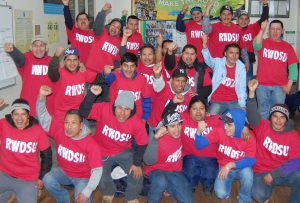 Last week, 50 workers at SLS car wash in Brooklyn, N.Y., ratified their first union contract, bringing them the rights and respect they demanded when they voted overwhelmingly to join the RWDSU. SLS car wash is the largest car wash service in New York City to join the RWDSU.
"Before we organized we were under a lot of stress, and were treated badly. Now, we have respect and dignity, and it's priceless," said SLS worker Cheik Umat Balde.
The new contract includes the elimination of a tip credit system in return for a base pay of slightly more than minimum wage. It makes a big difference in an industry where, too often, workers' tips are stolen by management. The contract also includes paid sick days and a week's vacation for all employees, another first for the workers at SLS.
In addition, like all New York City car wash workers who have ratified contracts, workers are now free to take leave to return to their origin countries so they can visit their families. They also have the representation, dignity, and respect that comes with a union contract.