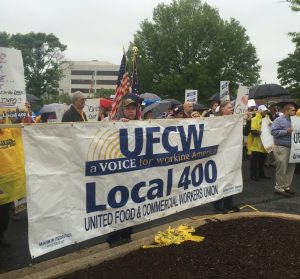 Last week, after months of rallies, community meetings and marches, Giant workers who are members of UFCW Local 400, along with customers and community leaders, won their fight to preserve good jobs and shopping options in Maryland and Virginia when Giant announced that eight local stores would not be sold.
In March, Giant had told employees at those locations who are members of Local 400 that their stores would be put up for sale as part of the merger between Giant's Netherlands based parent company Ahold and Belgium based Delhaize, the parent company of Food Lion.
"We stood strong as a union with our community and our customers to let Giant know that selling our stores and leaving the Fredericksburg area was unacceptable," said Robyn Wheeler, who has worked at the Giant in Fredericksburg City, Va., for 37 years. "I'm glad that Giant did the right thing in the end and I'm proud to be a part of a union and a community that would not give up the good jobs and grocery options Giant brings to this area."
In addition to organizing public events that drew attention to the negative aspects of the proposal to sell the local grocery stores, Local 400 members also contacted the Federal Trade Commission and their local elected officials to express concerns about the impact on wages, benefits and competition.
"Because we have a strong union, we had a voice in this process," said Treesa Shipp, a Giant employee in Stafford, Va. "They could not ignore us, the employees who built this company and make it successful."