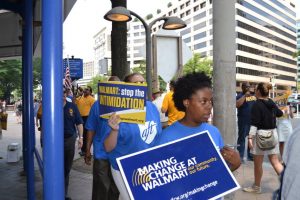 On July 7, Making Change at Walmart (MCAW), with help from UFCW and RWDSU locals, held rallies in New York City, Chicago, Dallas, San Francisco and Washington, D.C., as part of its campaign to pressure Walmart to withdraw its support of the upcoming Republican National Convention and denounce Donald Trump's racist, xenophobic and misogynistic statements.
"How long will it take for Walmart to denounce hate? After 42 days of Walmart staying silent on whether it will support Donald Trump and the Republican National Convention, a day of action is needed," said Jess Levin, communications director at MCAW. "Walmart, as the nation's largest retailer, has a responsibility to distance itself from Trump's long history of racist, misogynistic, anti-veteran, and Islamophobic statements. And until it does the right thing, our campaign will make sure people are asking if Walmart's values are the same as Donald Trump's values."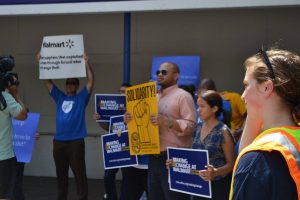 The campaign includes a new online video called "Do the Right Thing" that makes clear the shocking level of Trump's offensive remarks, and shows how major companies like Apple, Walgreens, and Wells Fargo have all denounced Trump by removing their support for the  Republican National Convention. The video also asks the American people to sign a letter addressed to Walmart CEO Doug McMillon that asks him to stop supporting or donating to the Republican National Convention due to Trump's offensive statements and actions.
UFCW Locals 312, 400, 540, 648, 881, 888, 1500, 1546, 2013 and RWDSU Locals 338 and 1103 participated in the rallies.