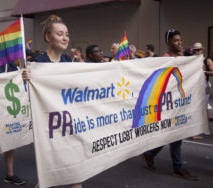 In June during Pride Month, Making Change at Walmart (MCAW) organized actions in front of Walmart stores and at Pride events in cities throughout the country to educate Walmart customers and the LGBT community about the retail giant's real record on LGBT issues, and not let the company get away with their attempted "rainbow washing." Members of MCAW also marched alongside UFCW OUTreach staff and UFCW locals in Pride parades in San Francisco and New York City.
MCAW also released an open letter to the nation's leading LGBT Pride organizations calling for them to reject Walmart's donations because of the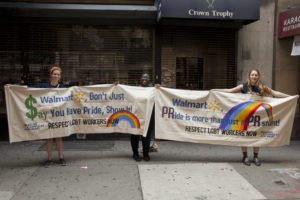 retailer's long history of allowing LGBT discrimination in its stores. Additional information about the campaign can be found here.