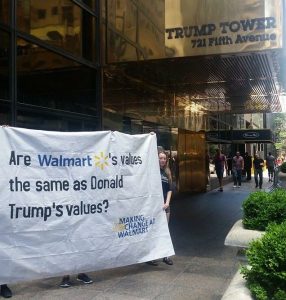 On June 23, Making Change at Walmart (MCAW), along with The Black Institute, the United States Hispanic Leadership Institute, and ColorOfChange.org, sent a letter to Walmart CEO Doug McMillon that calls on the retail giant to withdraw its sponsorship of the 2016 Republican National Convention due to presumptive Republican presidential nominee Donald Trump's history of racist, misogynistic, anti-veteran, and Islamophobic remarks. A full copy of the letter can be viewed here.
"Walmart cannot afford to stay silent when it comes to Donald Trump," said Jess Levin, communications director at MCAW. "Throughout his presidential campaign, he has managed to offend men and women of all races and religions and across the political spectrum with his racist, misogynistic, anti-veteran and Islamophobic statements. These are Walmart customers and Walmart employees. Walmart needs to send a message that it will not support bigotry, and join the growing list of companies who are refusing to sponsor this year's Republican National Convention."
MCAW has launched an online petition where supporters can sign on to the letter. To date, over 10,000 supporters have signed the petition.