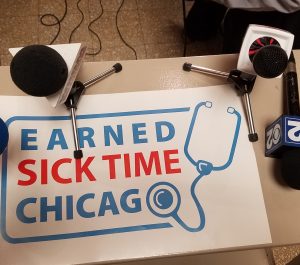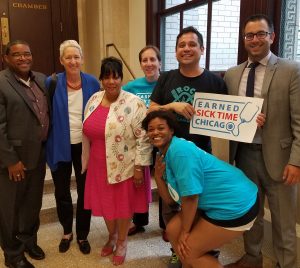 Last week, the Chicago City Council passed the Earned Sick Leave Ordinance by 48-0, which will extend earned sick leave to over 450,000 workers in Chicago. The ordinance will most dramatically benefit 42 percent of Chicago's private sector workforce who currently lack paid sick leave. UFCW Local 881 played a big role in the passage of this legislation.
"On behalf of the 8,000 hardworking members of Local 881 UFCW who live and work in every neighborhood of Chicago, I commend the 48 supportive voting members of the Chicago City Council for passing the Earned Sick Leave Ordinance," said UFCW Local 881 President Ron Powell. "In 2015, voters in every ward of Chicago overwhelmingly supported extending earned sick leave to working families who are one flu season away from losing their job and economic hardship. We are pleased today that the City Council listened to the working people of Chicago! This is a historic step for our city and a victory for workers and our communities."
UFCW Local 881 was the founding member of the Earned Sick Time Chicago Coalition, a partnership of community, public health, faith, women's advocacy, and labor organizations that worked together to raise awareness about this issue. The Earned Sick Leave Ordinance takes effect on July 1, 2017.