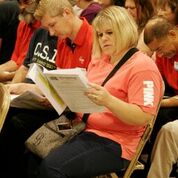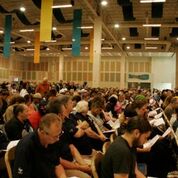 On June 8, more than 800 members of UFCW Local 400 who work at Kroger voted to ratify a new collective bargaining agreement.
The new four-year contract includes higher starting pay, raises for department heads and full-time and part-time clerks, four personal holidays (one per year), retiree healthcare extended to June 2017, and maintained healthcare benefits.
A few weeks before the contract was ratified, 1,100 members voted unanimously to reject Kroger's proposal and authorize a strike at 41 stores in the region. Shortly after the vote, Kroger reopened negotiations with an improved offer.
"We sent a clear message to the company that we were willing to fight for a better deal," said Mark Federici, president of UFCW Local 400. "It wasn't until we all stood together and voted unanimously to authorize a strike that Kroger decided to make a better offer. It's not everything we wanted, but it was an improvement. And one thing is certain – it's more than what Kroger wanted to do before we showed them we are willing to stand up for ourselves."