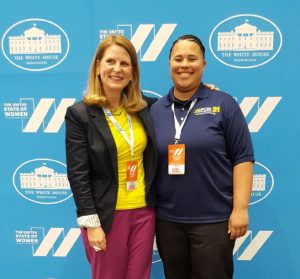 Last week, Ariana Davis, a member of UFCW Local 21 who works at Safeway, spoke at the White House United State of Women Summit in Washington, D.C. She shared the stage with President Barack Obama, First Lady Michelle Obama, Vice President Joe Biden, actress Kerry Washington and Oprah to discuss key gender equality issues.
Ariana presented with AFL-CIO Secretary-Treasurer Liz Shuler about the best way to give working women equal pay and an equal say – a union. In front of a crowd of 5,000 people, Ariana talked about her experience as a member of UFCW Local 21 and how a union contract offers a way to give women both equal pay and an equal say in the workplace.
"The power of a union is about much more than dollars and cents," she said. "I am respected by workers and managers alike. I am a force in my community. And it's because I don't stand alone – I am in a movement with grocery workers and steelworkers and teachers. Together, we have a voice. Together, we can make change."
Back home in Washington state, Ariana has been collecting thousands of signatures as the citizen petitioner behind Initiative 1433, a statewide ballot measure which will raise the minimum wage to $13.50 and provide workers with up to seven days of paid sick leave.