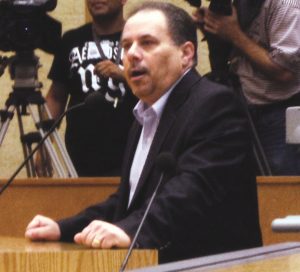 On June 8, San Diego passed legislation that will immediately increase the minimum wage to $10.50 an hour, and then to $11.50 an hour in January. This bill also provides five days of annual paid sick leave. Members of UFCW Local 135 played an important role in the fight for this legislation, which will help hard-working men, women and their families in the San Diego area and improve public health.
This legislation immediately gives a boost to 170,000 workers in the city of San Diego, where many minimum wage employees work two or more jobs to make ends meet.
This new minimum wage increase was a long time coming. Back in 2014, the San Diego City Council voted in favor of raising the minimum wage. However, shortly thereafter, the mayor vetoed it, the city council overrode it and the San Diego Chamber of Commerce stepped in with petitions for a ballot initiative, which halted raises for the working poor for more than two years.
UFCW Local 135 President Mickey Kasparian spoke before the San Diego City Council in favor of raising the minimum wage, and UFCW Local 135 staff phone banked and knocked on doors to get the ballot initiative passed. This victory is the result of an effort, by a diverse coalition led by RaiseUp San Diego, to ensure that no one who works full-time in San Diego is forced to live in poverty.
"The historic passage of an increase in minimum wage and earned sick days for San Diego workers signals a clear turning of the tide in San Diego," said UFCW Local 135 President Mickey Kasparian. "In the end, a million dollar campaign from out-of-town hotel and restaurant lobbyists and a veto from Mayor Faulconer could not stop San Diegans from voting their conscience. Hopefully, this will alleviate the struggles for workers who make tough decisions like whether to pay the rent or put food on the table."