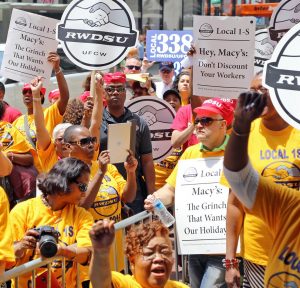 Last week, hundreds of Macy's workers and their supporters rallied in front of the Macy's Herald Square flagship store in New York City, the largest department store in the United States, to demand a fair contract for 5,000 RWDSU Local 1-S members employed at Macy's. The workers called for a fair contract that provides living wages, good benefits, reliable schedules, and affordable healthcare, and have authorized their union to call a strike if Macy's does not meet their demands by June 15.
RWDSU Local 1-S members and Macy's workers have grown increasingly frustrated over the clear increase in income inequality and corporate greed at the company. For example, in 2014, Macy's CEO Terry Lundgren's total compensation package rose to nearly $13 million, up from more than $11.4 million in 2013. Among Lundgren's $233,000 in reported "other compensation" was $75,000 for a private jet and $8,000 for a personal driver. Meanwhile, many Macy's employees earn as little as $9.00 per hour and cannot afford medical benefits through the company.
The rally, which also drew a large group of elected officials and supporters from all five boroughs, was organized by RWDSU Local 1-S, which represents 5,000 workers at four Macy's stores in the New York City area: the Herald Square flagship store in Manhattan and branch stores located in the Bronx, Queens, and White Plains.
"The workers rallying today have always been the real magic of Macy's," said RWDSU President Stuart Appelbaum. "The talented employees of the iconic Macy's flagship store at Herald Square and other stores know how valuable they are to the company's brand and profitability. Investing in the strength and quality of its workforce will help Macy's attract more shoppers and regain a competitive advantage over online retailers like Amazon. We stand with Macy's workers in their fight for a fair contract and support their decision to go on strike if the company does not negotiate in good faith."
"The magic of Macy's will be lost if the company uses this contract negotiation to put so many dedicated employees on the clearance rack," said RWDSU Local 1-S President Ken Bordieri. "When our members are constantly worried about making ends meet, they can't deliver the customer service that keeps millions of shoppers coming into the Macy's stores every year. We urge the company to meet us at the bargaining table with a fair contract before June 15."