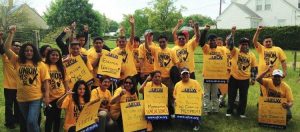 On May 20, the hard-working men and women at Eastland Food Products Inc. in Cranston, Rhode Island, took a major step to address workplace issues by voting 74-37 to join UFCW Local 328. Despite the anti-union tactics of management, they remained united and proved once again that when workers choose to stand together, they can be resilient no matter the opposition they may face.
UFCW Local 328 staff were first introduced to the Eastland Food workers when they were invited to attend a delegation led by the workers. The objective of this delegation was to demand that management address the allegations of sexual harassment at the plant. Workers and union organizers continued to meet to address the major issues and working conditions at the plant, including workers who were only earning minimum wage, the lack of paid vacations, sick days or holidays, a lack of adequate break time for 17-hour long shifts, and allegations of wage theft.
After learning their rights, the process, and the benefits of organizing, workers began to sign authorization cards and shortly thereafter a petition for a union election was filed. During the days before the election, workers displayed great solidarity by leading another delegation where they were joined by community and labor allies to demand that management respect their rights to form their union and to end the intimidation. This event empowered the majority of the workers to wear their 'union yes' shirts to work just days before the election.
"I am very pleased and excited for the folks at Eastland Food," said UFCW Local 328 President Tim Melia.  "I am also very proud of the strength and unity that they displayed during this most recent organizing campaign.  We look forward to negotiating a fair contract on their behalf, as well as welcoming them into the UFCW family."