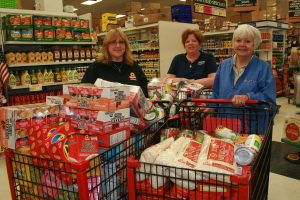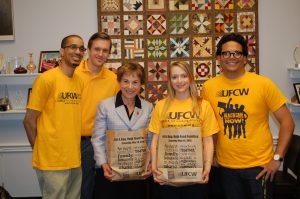 Last week, members of Congress from across the country, together with members of the UFCW, joined together to help launch the National Association of Letter Carriers' "Stamp Out Hunger" food drive.
"Stamp Out Hunger," the largest single-day food drive, invited Americans to leave food by their mailboxes on Saturday, May 14 for collection by their neighborhood letter carriers for delivery to local food pantries.
This year, the UFCW, as a national title sponsor, invited Congressional offices and members from both sides of the aisle to participate. Sen. Jeff Merkley (D-Ore.), Sen. Sherrod Brown (D-Ohio), Rep. Jan Schakowsky (D-Ill.), Rep. G.K. Butterfield (D-N.C.), Rep. Bobby Scott (D-Va.), Rep. Alma Adams (D-N.C.), and Rep. Marcia Fudge (D-Ohio) and their staff participated in helping us to promote this worthy cause.
UFCW Locals from all across the country also hosted their own events, making this year's food drive one of the biggest and best that anyone had ever seen.
UFCW members see the effects of hunger in America every single day. Every time someone has to turn back and put something away in one of our checkout lines because they don't have enough money, we feel for them. For millions of families, this year's food drive was a small, but important, step towards fixing that problem.