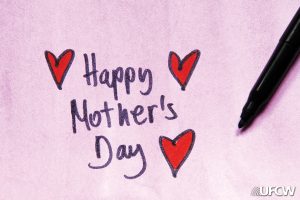 Moms are a vital part of our working UFCW family. Moms lead the way, but also encourage us to grow and find our own paths. They are our loudest cheerleaders and strongest supporters.
The UFCW has created a tool that allows users to choose from six different card designs and create a personalized message to digitally send to someone special this Mother's Day. Please take the time to thank your mom or a woman who has been a role model in your life–the women who have mentored, inspired, and made us who we are deserve to know how special they are. Go to UFCW Mother's Day Card tool here.
We are also asking UFCW members and staff to submit photos of individuals together with their moms, and tell us why she rocks at submissions@ufcw.org
Be sure to let us know your name, hometown, and local union number, as well. We'll be sharing your photos and quotes on Facebook over the next few weeks to help spread the love.