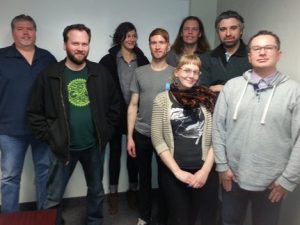 On April 5, workers at the Wedge Community Co-op in Minneapolis voted to ratify their first union contract, becoming the first unionized co-op in in the state of Minnesota as members of UFCW Local 1189.
In November of 2015, workers at the Wedge Community Co-op, also known as 'The Wedge," overwhelmingly voted in favor of joining UFCW Local 1189.  Workers were concerned about issues ranging from just and fair wages to maintaining the co-op values in an environment that many workers believed was becoming more corporate. The process was fairly smooth, and both sides came to the bargaining table with the goal of a fair contract.
"The Wedge's willingness to honor their workers' desire to have a union and a fair union contract sets them apart from all other co-ops in the state," said Jennifer Christensen, secretary- treasurer of UFCW Local 1189. "Sustainability is not just about the food we eat, but also the workers who provide that food to us. Unlike Whole Foods, Trader Joes, and their ilk, who masquerade as conscientious employers, The Wedge is the real deal, and the union contract proves it.  A local, ethical, responsible employer, the Wedge and its union workers deserve your support."
The warehouse for The Wedge, Co-op Partners Warehouse (CPW), joined Local 1189 in 2012 and paved the way for the retail store to organize by negotiating neutrality with the employer.  Workers at The Wedge and CPW are setting the standard for the co-op industry.