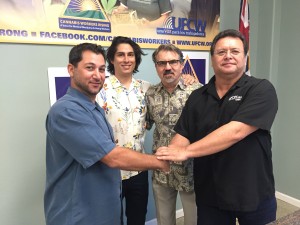 On April 2, in a first for the state of Hawaii, UFCW Local 480 and Green Aloha, Ltd. announced an agreement giving their workers a fair process to form a union, ensuring good jobs and a highly trained workforce in the emerging medical marijuana industry.
"This is an exciting day for cannabis patients and workers in Hawaii," said Pat Loo, president of UFCW Local 480. "This agreement guarantees that if Green Aloha is selected to operate a dispensary in Kaua'i and a majority of its workers choose to join the UFCW, the community will benefit economically from excellent working conditions and a highly skilled workforce trained with industry best practices developed from UFCW's extensive experience across the country."
The agreement allows workers at Green Aloha a fair way to choose a union and outlines key principles for a future contract ensuring that the pay and benefits for Kaua'i workers would meet or exceed standards for cannabis workers across the country.
"We're deeply committed to ensuring that we operate at the highest standards possible, if we are privileged to be awarded a dispensary license," said Justin Britt of Green Aloha. "Partnering with the UFCW enables us to do that with the most qualified, best trained workers available. We're privileged to be able to tap into the years of experience and industry knowledge the union has developed from its work across the country."
"We believe that medical marijuana dispensaries shouldn't benefit just their owners," said Loo. "We think the state should agree with us and license operators who they know will respect their workers, ensure the safety of their communities and make real, binding commitments to the people of Hawaii."