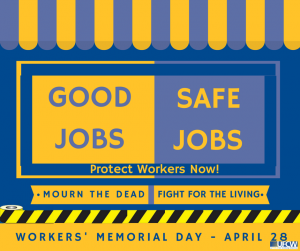 Every year, labor unions and other groups fighting to create a better life for workers celebrate Workers' Memorial Day on April 28th. We observe this holiday so that we may remember those who have suffered and died on the job, and to renew and re-invigorate our efforts to ensure safe jobs for all people. When hard-working people are safe and healthy, and when they make living wages, it's not just workers that benefit, but customers and businesses as well.
The UFCW International will be distributing materials in the upcoming weeks to UFCW locals, so that we can amplify our message about why union membership is key to safe workplaces, and how together, we can actively keep workers safe.
We would also like locals to share with us if they will be holding any Workers' Memorial Day activities so that we can help spread the word.