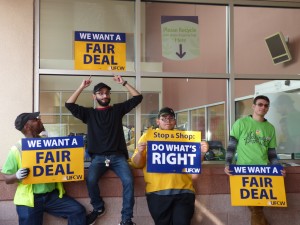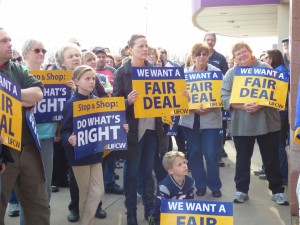 'Stronger Together' is more than a slogan for Stop & Shop workers in New England. In an unprecedented display of solidarity, 35,000 Stop & Shop workers in New England, represented by five UFCW locals, have come together to strengthen their position at the bargaining table. Bargaining committees from UFCW Locals 328, 371, 919, 1445 and 1459 have stayed at the table for two months fighting for a fair deal for the hard-working men and women that make the company successful.
Local unions are holding joint actions in the stores to educate customers and build support for protecting good jobs at Stop & Shop. While the company draws out the bargaining process, members are building a contract campaign into a movement that has brought customers, workers, community leaders, union members, and even four U.S. Senators into the fight for good jobs in the grocery industry.
Over the past two weeks, the five New England locals have held rallies across the region, drawing out hundreds of workers and supporters to call on Stop & Shop to provide a fair deal and a better life for its employees. More than 20 UFCW locals gathered for the kick-off rally in Braintree, Mass., a few miles from the company's headquarters.
"As a former member of UFCW and of the original Stop and Shop family, I stand, in solidarity, to support the rights of the worker's to the good pay and good benefits they deserve," said Deb Goldberg, treasurer of Massachusetts, whose family founded Stop & Shop in 1892.
The crowd that turned out for a rally in Quincy, Mass., tripled organizers' expectations, as workers brought family members and customers and community members joined in to call on Stop & Shop to provide a fair deal and better life for its employees.
The following day, neither a rain storm nor Boston's famous St. Patrick's Day celebrations could keep supporters away from a rally in Dorchester. Hundreds turned out to make their voices heard on the same day that the company returned to the bargaining table to resume negotiations. When workers were asked to take their rally off of store property, the Boston Police helped close down a lane of traffic to make room for crowds that overflowed the sidewalk.
U.S. Senator Edward J. Markey put the coordinated effort of the New England Stop & Shop workers to stand strong for a fair contract in perspective: "As the income gap in our country continues to grow and the middle class gets hollowed out, it is imperative that our labor unions take this fight to every negotiation where the potential for economic injustice is a real possibility."
U.S. Senators Christopher Murphy and Richard Blumenthal joined hundreds of Connecticut Stop & Shop workers and community supporters at rallies in Norwalk and East Hartford, while Senator Elizabeth Warren sent a letter of support to Massachusetts workers who held a final rally in Holyoke.
"When I started working here, Stop & Shop was my path to the American Dream – a house, a future for my family. But with the company's current proposals, that dream will be out of reach for my coworkers," said Barbara Begley, who has worked for Stop & Shop for 33 years. "We take great pride in the work we do to serve our customers and communities. Stop & Shop should do what is right and accept a fair deal."
Supported by their customers, the hard-working men and women at Stop & Shop are standing together and calling on the company to stop its threatened cuts to benefits, offer fair wages, and do what is right for the community.