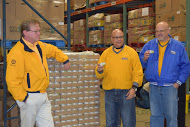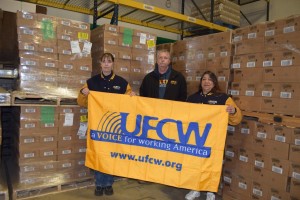 On March 24, the UFCW teamed up with some of America's best-known food manufacturers and longtime UFCW partners, including Cargill, ConAgra Foods, Hormel Foods, JBS USA, Pinnacle Foods, Downs Food Group and Ryder Logistics, to bring relief to families in Flint, Michigan. Together, they donated more than 60 tons of beef, pork, poultry, canned meats, ready-to-eat soups and pastas, and peanut butter to the Food Bank of Eastern Michigan in Flint.
UFCW Locals 876 and 951, which represent workers in Flint and across Michigan, have been coordinating the UFCW's ongoing effort to serve their Flint members, their families and the broader Eastern Michigan community, and Local 876 has contributed more than $14,000 to the Flint community as part of their local relief efforts. This donation was made possible by UFCW members across the country who made or contributed food or transportation to help feed Flint families in need, including members of UFCW Locals 38, 293, 540, 617, 1149, 1161 and 1996.
"The crisis imposed on Flint families is a historic failure. To do what is right for these good people we must act, and we must act together," UFCW Local 876 President Roger Robinson said. "Today, UFCW and its employer partners have come together for this community, demonstrating our ability to unite in advocacy for the protections all families deserve; to be the voice of the worker that is too often ignored; and to provide the strength and support to navigate all workers to a better life."
"We firmly believe that everyone has the right to enjoy safe and nutritious food," said Jarrod Gillig, general manager of Cargill's beef processing plant in Schuyler that produced the beef for Cargill's donation.  "We know that protein, like ground beef, provides an array of essential nutrients to children and adults, and we believe it is important for us to provide some relief for a community in need of long-term support."
"Our donation provides a variety of quality, protein-rich products for the people of Flint," said Thomas L. Nuss, director of human resource operations at Hormel Foods. "We are proud to partner with the UFCW in this endeavor, and hope our effort will help those in need."
"At JBS, we're committed to giving back to the communities in which we live and work, and to helping when our neighbors are in need," said Chris Gaddis, head of JBS USA human resources. "Families in Flint are experiencing extremely difficult times, and if we can help, we're honored to offer our support to those families."
"We are committed to helping not only our members, but the entire community effected by the Flint water crisis," UFCW Local 951 President John Cakmakci said. "To date, we have raised over $100,000 to provide quality food and water to Flint residents. Next week, we will be hosting the first of many food and water giveaways for the nearly 500 UFCW 951 members and retirees living through this horrible situation."
"Good, nutritious food is key to the Flint community's recovery, and we can't thank this incredible team enough for what they have done for Flint families and children" said Kara Ross, vice president of the Food Bank of Eastern Michigan.