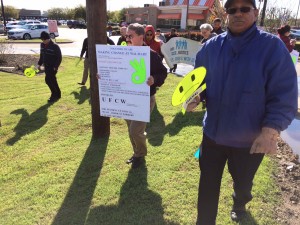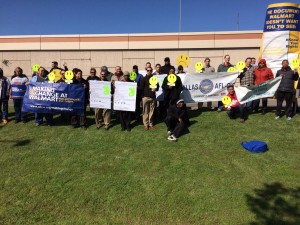 On March 24, two former Walmart workers, Colby Harris and Marc Bowers, joined labor leaders at the Lancaster, Texas, Walmart Supercenter (store #471) to protest Walmart's illegal actions against striking workers. The group was also protesting Walmart's appeal of an administrative law judge of the National Labor Relations Board's ruling that said Walmart unlawfully retaliated against workers for participating in strikes. Both workers urged Walmart to drop its appeal.
The administrative law judge's ruling states that Walmart must offer 16 former employees, including those in Texas, full reinstatement to their jobs along with back pay, and that Walmart must hold a meeting in 29 specific stores to inform employees of their right to strike and form a union.
Harris, a local Texas worker who Walmart fired for his participation in strikes in 2013, said, "I knew that Walmart firing me for speaking out was illegal, but to have a judge say it means everything. This ruling doesn't just affect me and my former coworkers. It affects every Walmart worker who has been afraid to stand up for him or herself. This ruling is historic, and Walmart needs to adhere to it."
Bowers, another Texas worker who was fired after striking, said, "I voiced my opinion about the injustices I was seeing at Walmart. That is something that is supposed to be protected by the law, and Walmart broke that law. Since I was illegally fired, I have struggled to find another full-time job. Walmart needs to do what is right, and what the judge says is right. They need to give me my job back and let other workers know that they are allowed to speak out."
Mark York, executive secretary-treasurer of the Dallas AFL-CIO, also spoke at the action.
"I've personally stood with these brave Walmart workers in fighting for better treatment at work, and I will continue to stand with them as they fight for Walmart to abide by this ruling. The law is on their side. The Dallas community is on their side. Colby and Marc didn't deserve to be fired for exercising their rights," York said.